Welcome to Chinees Onderwijscentrum Nederland
Chinees Onderwijscentrum Nederland (CON) is an innovative institute with the mission to educate Chinese speaking talents for the Dutch society. The Chinese language and culture lessons aren given through a modern approach with high quality. All teachers of the institute are graduates from famous universities. They have longstanding experience in teaching and furthermore well trained in teaching with the aid of multimedia. All Chinese students do have the opportunity to take part in summercamps in China.
The three locations of CON in Almere, Amsterdam and Utrecht are easily reachable and without any parking fee. All of our classrooms are equiped with a multimedia installation.
Our target group are children and young people from the age of 5 to 18 years.
The teenagers and adults who want to learn Chinese, please get more information via www.chinesecollege.nl
Announcement
School year 2023-2024 start on September 9, 2023
Every Saturday, 10:00-12:30, click following lesson schedule and school holidays.
Zoom Online lesson, every Sunday 10:00-12:30
Click:Online lesson schedule 2023-2024
Chinese New Year Celebration in Almere
On Saturday, January 28, Chinese College Nederland organized a Chinese New Year party in Almere in the cultural center Casa Casla.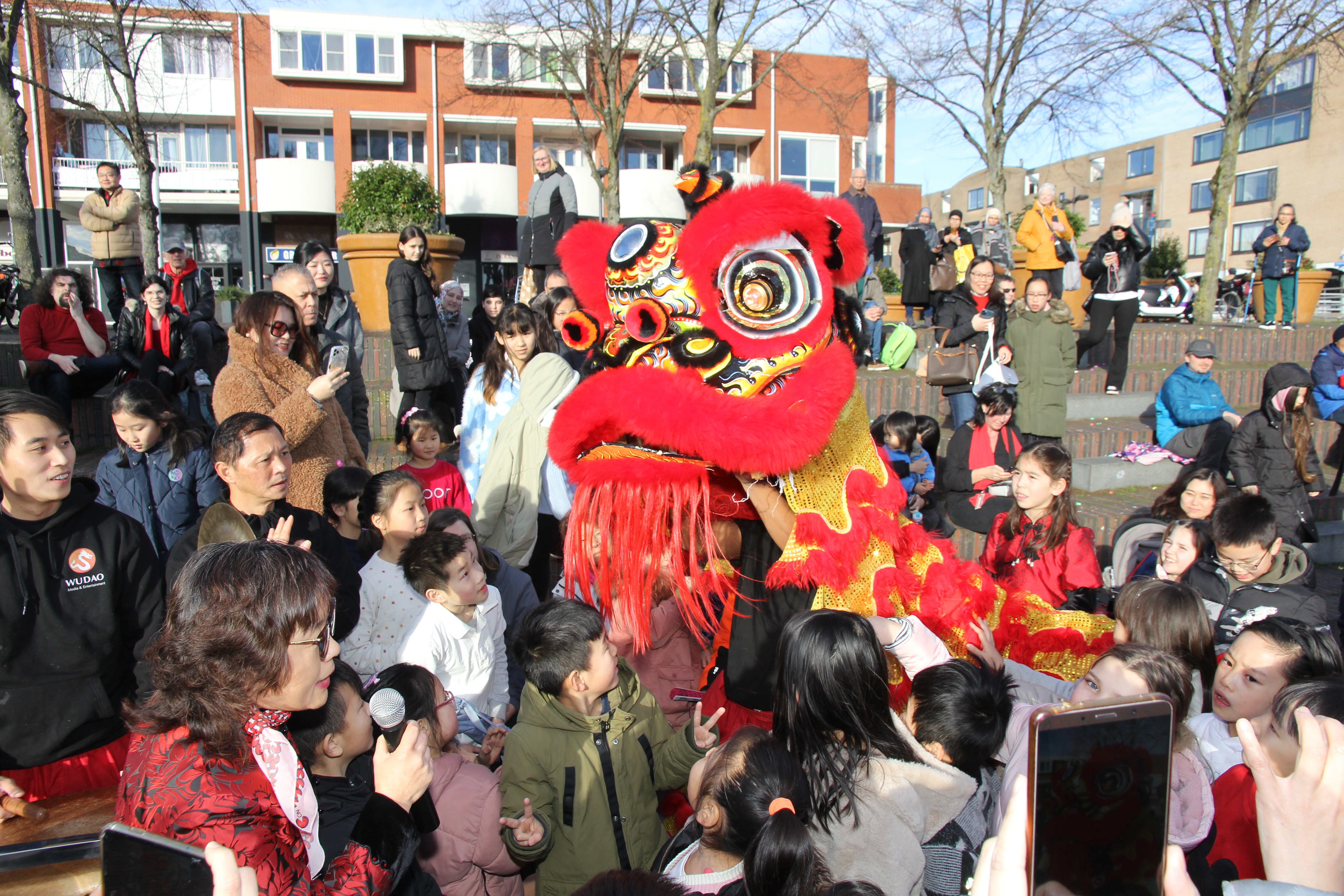 Under a beautiful Dutch clear sky, the Chinese New Year, the year of the rabbit, was ushered in with a traditional lion dance.
After this, many Chinese culture activities, workshops and performances were organized to participate in such as Beijing Opera mask painting, Calligraphy, Tai Chi etc.
With more than 200 visitors, the interest in the event was certainly a success.
See the video below for an impression of the party.
The local paper "Almere deze week" also reported on our event (Read their article here)
Ouders doen kinderen op Chinese les
RTL4 Nieuws rapportage op het Chinees Onderwijscentrum Nederland.
Nǐ hǎo Hélán! Oftewel 'Hallo Nederland!' Deze Chinese zin kennen steeds meer mensen uit hun hoofd, want het Chinees is in opkomst. Steeds meer mensen melden zich aan voor Chinese taalcursussen en leerlingen doen vaker een examen Chinees op school. "Er is ook meer interesse van Nederlanders zonder Chinese familie."
Adress
Almere:
A. Boekenweg 3, 1333 VD Almere ( Oostvaarders College, free parking ),



Amsterdam:
De Cuserstraat 3, 1081 CK Amsterdam Buitenveldert ( CSB )
(Metro 51, Tram 5 Boshuizenstraat; Bus 62, 142, 170, 199 De Cuserstraat)


Utrecht:
Maartvlinder 1, 3444 DA Utrecht ( Leidsche Rijn College, free parking )
(Bus 28 Korianderstraat)